Installation space designed by Isabella Friis with the work of Yifan He
By Yifan He
Embodiment is a messy thing. I woke up from a long night of dreams and played second life till the late afternoon. I remember watching someone I loved sleeping over a 16 hours long video call, unable to tell if it was the bad connection or they weren't moving. No signs of life. The hope to touch and stretch our skins left fingerprints on computer screens. My second life character P's body rested well on a found bed in some cottage and I watched. Morph me out of this assigned-at-birth wet-ware. I feel uncomfortable living in this body.
Story of P can be read
here (PDF)

All images courtesy of the artist.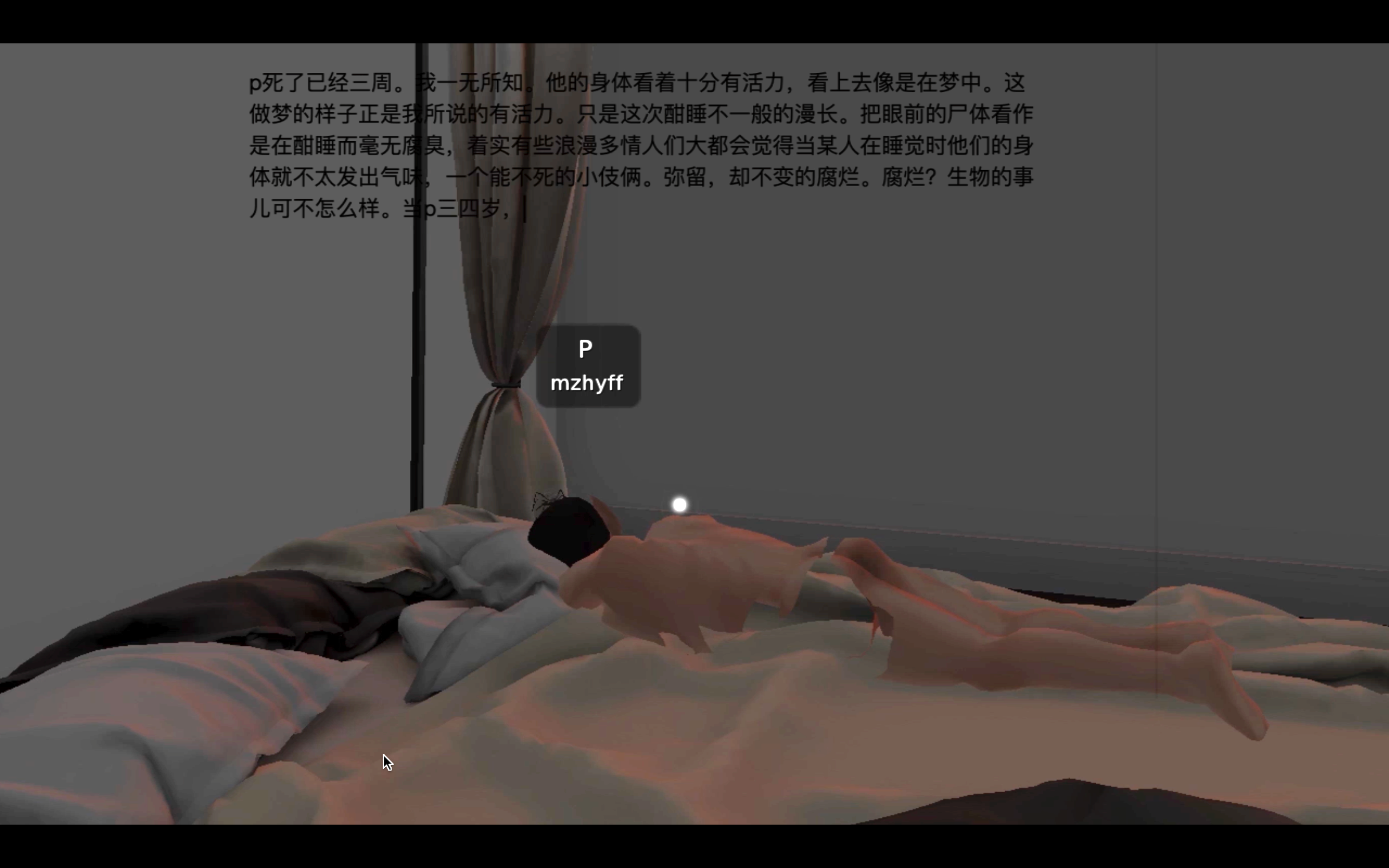 About the artist
Yifan He is an interdisciplinary artist. They send out edible letters, animate sculptural objects and make videos and prints. Yifan's practice explores our extended avatars across different worlds. They are interested in challenging the borders between bodies and initiating intimate relationships with every'body' involved in the process of making/playing/eating.
Yifan is the appointed artist in residence at UCL SPiDER (the Sustainable Physical and Digital spaces for Education and Research project), currently building a chatbot for people to talk to in public toilets. Their writing Embodiment and Disembodiment in Tech is published in the new issue of Broad Street Humanities Review.
Yifan is also a cohort at Dark Study (inaugural), Shades of Noir (Phase 5), and the online residency spur.world.
Further links
︎ @mzhyff
www.he-yifan.com
The Mind Melts Before It Melds Into Earth
Uncomfortable Hope is presented in collaboration with The Wrong Biennale 2021-2022
The Wrong Biennale - celebrating digital culture since 2o13, the wrong is a collaborative effort harnessing the potential of the internet, shaped as a decentralized global art biennale & tv channel, open to participation, happening both online & offline, awarded with
sois cultura 2o19
and ehrenerwähnung at
s+t+arts 2o2o
Link to
Wrong Biennale Broadcast