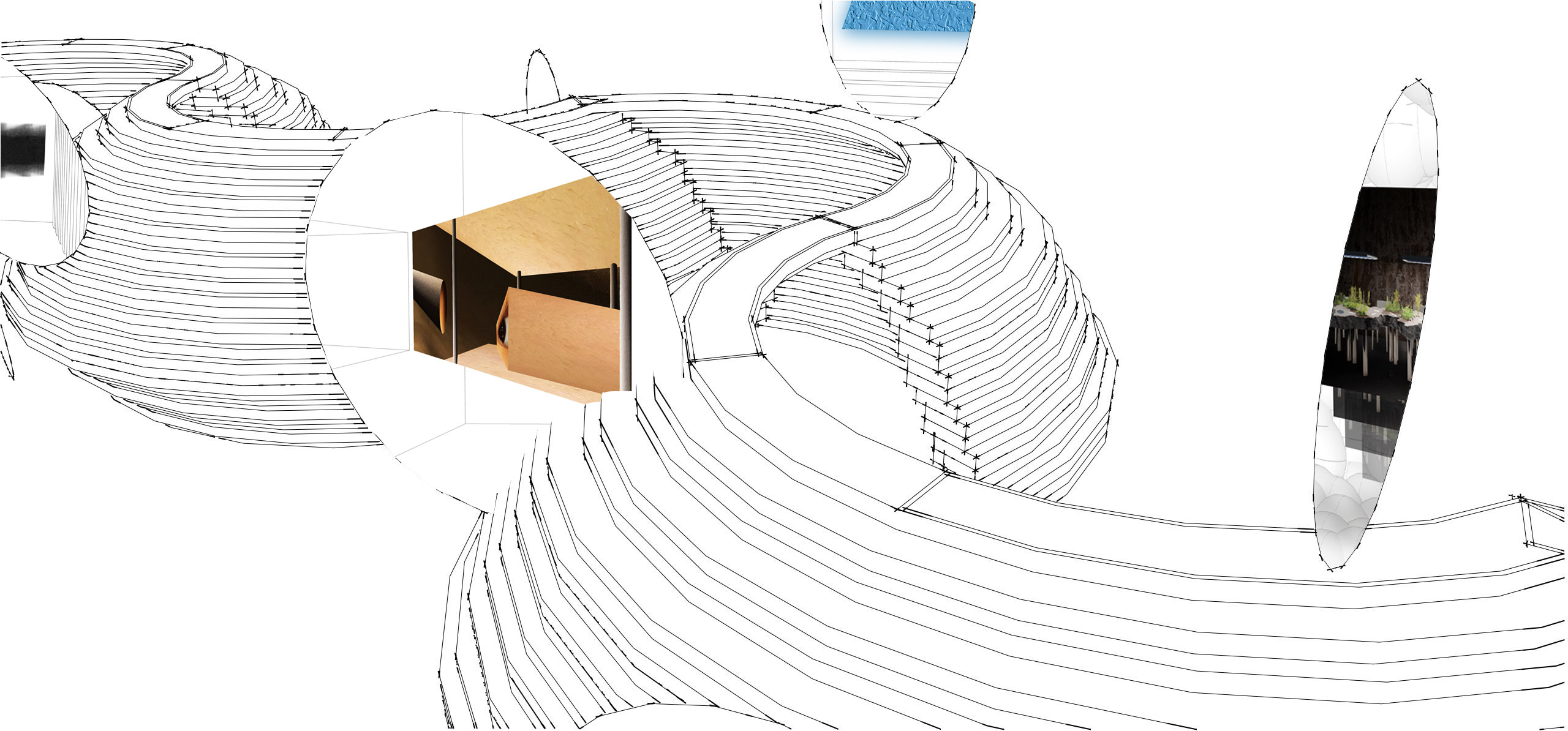 By Isabella Bhoan
Morphed Nurture / Sculpture as Action And Connection

In redrawing space I seek to create pathways between two poles that are opposite yet deeply entangled. These pathways wind and spring, creating space for discovery as well as connectivity.

In the last year, I was working with the idea of a womb-like space, one that nurtures, protects, and allows renewal. This space naturally came to be very similar to a sphere centered on geometrical singularity, the core embedded in a living entity.

When commissioned to create a pavilion space for the show, I jumped on the opportunity of experiencing all the featured artist's work firsthand. I was strongly taken by the technological thread running through their work, an electric connection, the kind that didn't shock but was illuminated within. It was this active connection that allowed the morphing of the womb to begin, warped with ideas of multi-dimensionality.

In this evolved structure that grew to be the Pavilion, artist spaces are connected through curves and turns. In the wavelike shielded caves, new worlds spawn, with their own identities and goals.

Opening video and all artist rooms by Isabella Bhoan
Imagined artist spaces, connected through portals to the main pavilion.
About the artist
Landscape architect Isabella Bhoan, takes pride in working with nature and utilizing the abilities and advantages of nature and plants can give to the environment we live in.
Isabella focuses on creating contemporary and site-specific landscapes that integrate design with intention of enhancing life quality for users, strengthning local anchorage and placemaking in the urban environment. The priority is to create spaces for people by concentrating on environmental solutions that uphold aesthetics and architectural values. After working in prize-winning Danish and international studios, she founded ILF Landscape Architecture.
Further links
︎ @ilflandscape
www.ilf-landscape.com
The Mind Melts Before It Melds Into Earth
Uncomfortable Hope is presented in collaboration with The Wrong Biennale 2021-2022
The Wrong Biennale - celebrating digital culture since 2o13, the wrong is a collaborative effort harnessing the potential of the internet, shaped as a decentralized global art biennale & tv channel, open to participation, happening both online & offline, awarded with
sois cultura 2o19
and ehrenerwähnung at
s+t+arts 2o2o
Link to
Wrong Biennale Broadcast