The Mind Melts Before It Melds Into Earth

Uncomfortable Hope 2021 - 2022



Pavilion Statement

Uncomfortable Hope an online pavilion that explores a parallel ecological reality founded on ideas of being uncomfortable. The exhibition would aim to investigate concepts that reject human convenience, efficiency, luxury, and practicality, instead focusing on reimagining a state of potentiality, not a dystopia but a non-utopia that purges all notions of utilitarian experiential indulgence.

---
Exhibition Rooms
Featured Artist
Saagar Gavri



About The Exhibit:
This is the Cathode Ray Mission. A gigantic network of information signals that feeds the masses with our socially acceptable discourse.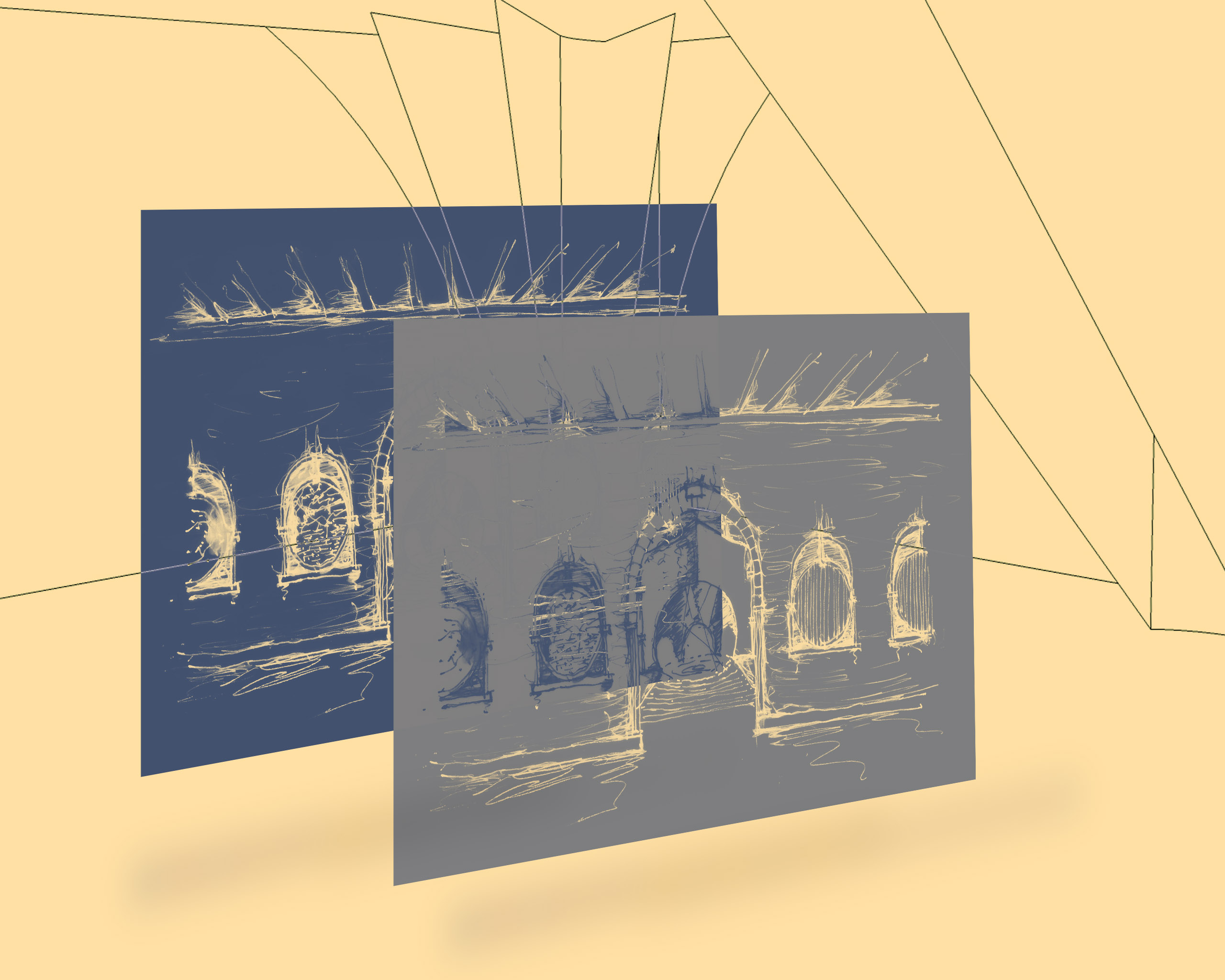 Natasha K. He
About The Exhibit:
Architectural Redemption
The project highlights an interpretation of transforming the old, unlikeable and unlovable. Through the focus of well-being the space transforms. With the conservation of the historic forms and elements, what was, is preserved and renewed.
The project highlights and investigates how architecture and aesthetics can challenge the perception of notations and associations.
The work of 'wellbeing' project will never finish but we have opened the view: an institution transformed.
Hence architectural redemption
Paul Mok
About The Exhibit:
Is it possible to demonstrate fully a first person experience, struggles and failures in making meaning out of a set of circumstances? Is it possible to display a sculpture as what it truly is - an unfinished process of meaning-making?
To set a table is to lay the groundwork. Is it possible to set one up, in this case, for it could-be fruitless attempt at meaning-seeking?
The struggle in meaning-seeking will be answered with the original struggle in meaning-making.
Isabella Bernal Vega
About The Exhibit:
Greener than Gold is a film that documents a community's resistance to multinational mining company AngloGold Ashanti's La Quebradona mining project, which would extract 4.9 million tons of copper concentrate, gold, and other minerals over a span of twenty years in the Andean tropical forest of Colombia. Through conversations between farmers from the towns of Jericó and Támesis and compelling visuals, Verde como el oro warns us of the disastrous impact the megamine would have on the Andean bear—the only remaining large bear in six Latin American countries—the community, and the environment.
Isabella Bhoan
About The Exhibit:

In the process of creating the pavilion, concept of the Womb was transformed and warped with the ideas of multi-dimensionality. Thinking of the Womb as a core of nurture, growth and embrace, the sculpture
suddenly twists and turns to consume and merge with the artists' work. The morphed structure curves and turns and in the shielded caves, new creations spawns, with their own identities and goals.
Aravalli Bachao
About The Exhibit:
The Aravalli mountains have endured millions of years of sustained assault of lava flows, submergence by seas, upliftment by the force of gushing magma from the depths of the Earth, collision with landmasses and erosion by wind and rain — to become a contiguous range running 700 kms across the 4 states of Gujarat, Rajasthan, Haryana and Delhi in North-West India
This old-fold mountain range is home to amazing plants and wildlife and acts as the green lungs and biggest source of recharging precious ground water of the highly polluted and water stressed North Western Indian region.
Ilona Balaga
About The Exhibit:
'This is not a film about water' is a new video work by Ilona Balaga that delves into the visual appearances and physical theories of two types of water flows: Laminar Flow - characterized as an orderly flow regime, and Turbulent Flow - a flow running in an irregular and stochastic manner, characterized by
chaotic
changes in
pressure
and
flow velocity
.
Joel Suganth
About The Exhibit:
This project traces the edges of presence and explores the idea of existing - not only in the physical space.
We are never in one place at one time. Traces of our past are superimposed in our present.
Corrine Chan
About The Exhibit:
Tender Surfaces contemplates digital interaction and data usage in relation to the human body. The work imagines the screen as a kind of skin or membrane that envelopes the virtual space (and its users) to form an organism, and likens data consumption to biological processes such as absorption and digestion.
UnFoji
About The Exhibit:
Showered with pixels I stand underneath till they begin to penetrate my outer layers. I moblise to find refuge, but its too late. My form has fractured, it won't be long before I lose critical functions.
Yifan
Embodiment is a messy thing. I woke up from a long night of dreams and played second life till the late afternoon. I remember watching someone I loved sleeping over a 16 hours long video call, unable to tell if it was the bad connection or they weren't moving. No signs of life. The hope to touch and stretch our skins left fingerprints on computer screens. My second life character P's body rested well on a found bed in some cottage and I watched. Morph me out of this assigned-at-birth wet-ware. I feel uncomfortable living in this body.
WAKE UP CALL: ARCHITECTURAL COMFORT IN THE AGE OF PASSIVITY
Text by Pol Esteve. Derived from a course Esteve taught at the Architectural Association in London.
Comfort is a tricky concept. Commonly understood as a positive value, it is a double-edged sword. In his 1948 treatise Mechanization Takes Command, Sigfried Giedion reminds us that the word comfort, in its Latin origin, meant "to strengthen." It was only after the 18th century, in Western culture, that comfort became identified with "convenience," he explains. Since then, in architecture, comfort is normally related to bodily experience in terms of sensory relaxation. Generally presented as an objective parameter, comfort refers to a physical state rather than a psychological mode. It is differentiated from wellbeing or happiness as, initially, it does not operate at a mental level, although it might have later consequences upon the mental. Comfort is achieved in an atmosphere where material conditions allow the body to repose. The air, the lighting, the sound, the smell, and the solid elements provide relaxation and avoid pain. In a space that is considered comfortable, activity can be pursued with the minimum effort.
Man shall order and control his intimate surroundings so that they may yield him the utmost ease. This view would have us fashion our furniture, choose our carpets, contrive our lighting, and use all the technical aids that mechanization makes available. — Sigfried Giedion, Mechanization Takes Command (1948)
Since the invention of the modern sofa for the French aristocracy, infinite means of comfort have been introduced into everyday living spaces. With the Industrial Revolution, sophisticated machines, like the escalator or air conditioning, became indispensable in our buildings. The emergence of the digital age brought advanced devices to adjust the qualities of our environment and optimize the use of the city; from domotic systems to geo-localized mobile applications, architecture has undergone profound transformations due to new technologies. Spatial programs and spaces themselves are continuously adapting and being drastically altered according to the requirements of techno-comfort, whether it's the simple alcove and fireplace that were replaced by central heating, or the neighborhood bar that is rendered obsolete by online-dating apps like Tinder.
With the advent of the 20th century, Modern architecture made techno-comfort a political battle: the Existenzminimum became a central theme. Spatial standards of comfort for the house were developed along with a vision of a functional and productive city. In 1936, Ernst Neufert published Architects' Data, a guide to architectural design that provides spatial requirements, with specific dimensions, to comfortably accommodate the body in space. Since its first edition it has been translated into 17 languages and re-edited on uncountable occasions. In parallel to Neufert's polite recommendations on how to optimize our living spaces came impositions: to guarantee minimums of comfort — and also maximum control — public and private spaces have been strongly regulated by legal institutions. This tendency came with the emergence of the nation state, and has achieved, today, the highest level of intervention in the built environment: the volume of rooms, the dimensions of openings, the articulation of programs and the properties of materials are some of the parameters that are regulated by law and by increasingly rigorous building codes.
But I don't want comfort. I want God, I want poetry, I want real danger, I want freedom, I want goodness, I want sin. — Aldous Huxley, Brave New World (1932)
Through the voice of one of his characters, British "acid" novelist and social critic Aldous Huxley warned of the dangers of a society of comfort. He was not the only one. Thinkers like Herbert Marcuse also warned that legal imposition and implementation of a material culture of comfort would bring social and political passivity. Embracing comfort was seen as accepting a hegemonic power that provides everyday ease in order to manipulate, in return, all aspects of our lives. Marcuse, who believed the erotic dimension of the body had an emancipatory role, clearly differentiated comfort from pleasure. Comfort differs from pleasure as the latter may imply demanding and tiresome bodily activation. Pleasure awakes new understandings of reality, while comfort numbs us.
I think we are faced with a novel situation in history, because today we have to be liberated from a relatively well functioning, rich, powerful society. — Herbert Marcuse, Liberation from the Affluent Society (lecture, 1967)
An uncomfortable space can be a pleasurable space. An uncomfortable space can be a space of consciousness. In a 2016 article in El Estado Mental magazine, Paul B. Preciado describes his experience of inhabiting a completely empty house in Greece.
My hips crush against the wood at night and I wake up stiff. Nevertheless, it is an inaugural experience, an aesthetic experience: one body, one space. — Paul B. Preciado, Casa vacía (2016)
In the emptiness of the house, there was no comfort. Preciado describes how techno-bourgeois conventions were suspended. All physical and digital technologies developed with the aim of bodily ease provide fixed and standardized spatial and symbolic relationships. Techno-comfort machinery is the catalyst of fixed social and political structures. From Preciado's point of view, a lamp next to a bed is a marriage of convenience.
Ikea is for the art of inhabiting what heterosexual normativity is for the desiring body. — Paul B. Preciado, Casa vacía (2016)
A well-sized flat with one double room and two single rooms is a machine for the perpetuation of the social norm. A constantly well-illuminated space is a machine for the reproduction of the liberal economy. A well-insulated wall is the fear of the other. But a steep stair is an achievement, a cold flat a reminder of your limits, and a too-small room the perfect place to become lovers.
Discomfort is a weapon.
---
First appeared in from
PIN–UP No. 23
, Fall Winter 2017/18.
The Mind Melts Before It Melds Into Earth
Uncomfortable Hope is presented in collaboration with The Wrong Biennale 2021-2022
The Wrong Biennale - celebrating digital culture since 2o13, the wrong is a collaborative effort harnessing the potential of the internet, shaped as a decentralized global art biennale & tv channel, open to participation, happening both online & offline, awarded with
sois cultura 2o19
and ehrenerwähnung at
s+t+arts 2o2o
Link to
Wrong Biennale Broadcast